Multivrs 2020 The Digital Void Artists
Delish Da Goddess
grew up in a small town in Louisiana called Violet, southeast of New Orleans. She grew up listening to many genres and is influenced strongly by artists such as Lauryn Hill, Tina Turner, Missy Elliott, Joan Jett, Whitney Houston and Janet Jackson.
She has cultivated a strong local relationship and bond which has made her "The leader of New Orleans' DIY hip-hop movement" – OffBeat
Christine Hoang
is an artist and sound producer living in Dallas, Texas.
💥Her multi-media practice explores and deconstructs societal presumptions, self-perception, commodity semiotics, investigating environmental acoustic materiality through field recording, and djing.
ⓜⓔⓜⓞⓡⓨ ⓣⓗⓔⓐⓣⓔⓡ
is a Filipinx dream/synthpop artist based in Oakland 🌌

Their music explores how memories – both individual & collective – influence our present and future lived realities, framing how we process and perpetually regurgitate/reconfigure our experiences through the projector screens of past feelings, thoughts, and dreams, which are always enmeshed with and distinguished according to race, gender, class, etc.
✨✨✨
Their music is intrigued with how memory can be a harrowing and painful experience , and can immobilize growth & lock oneself into destructive + repetitious patterns due to generational and interpersonal trauma.
✨✨✨
but also how memory — such as collective cultural memory — interweaves with our deepest imaginative powers, and can help us reconnect to our unique spiritualities/identities/communities.
✨✨✨
Their music looks at how memories can encircle our dreams & act as a source for creating moments, however infinitesimal, of reprieve and joy, & reawaken wonder and belief in life.
Mirrored Fatality
is a Queer Desi-Muslim Kapampangan-Pilipinx power duo~
✨casting spells & hexes, transforming rage, healing, & love.

✨They share their ancestral wisdom, rage, and regeneration through experimental and healing punk.

✨Mirrored Fatality curates cocoon web portals centered on healing and transformative justice.

✨Will you join them in imagining the future we've all been waiting for?

🍃Experience Mirrored Fatality's reflections and bear witness to your highest, truest self.
Freddie Lambright, III i
s a multi-disciplinary artist, trained in illustration, whose visual work focuses on Afro-Futurism, biological illustration, and his experiences with sound to color synesthesia.
💥In this exploration of sound, Freddie started producing music and DJing as an extension of his visual art practice under the name NOSiLENCE.
💥NOSiLENCE brings together all music of the African Diaspora: Afro-beat, Brazilian, Dance Hall, Latin music, funk, soul, disco, dance, and more!
Perry Rd
is a one piece acoustic folk number by singer songwriter Frankie Leveau ✨✨✨✨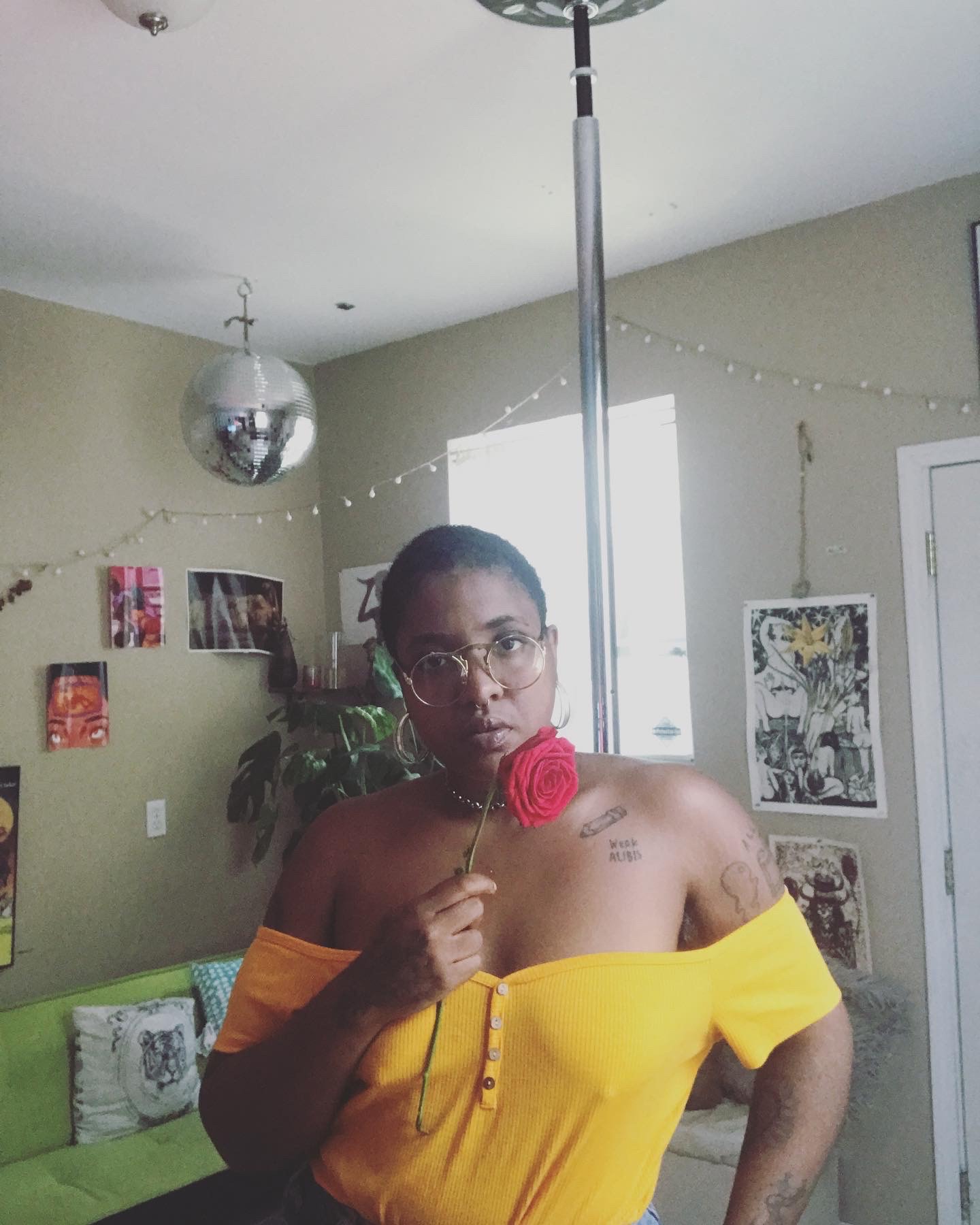 Sour Spirit are two brothas who are brothers making waves of harsh noise with free jazz flourishes, playing within and in spite of traditional rock structures. Meets Unwound. And though there are flashes of sounds that recall something that feels familiar, that familiarity is not nostalgic, it's primordial. See them live, change your life. -Alex Smith
𝕊𝕢𝕦𝕚𝕕 𝕀𝕟𝕜 🦑
8͓̽ Tentacles to Destroy Misogynior 🤮
💥squid ink is a four piece band from Fresno California!
💥With members Amber Williams (Vox/Guitar), Vishinna Turner (Bass/Vox), Audrey Johnson (Drums/Guitar) and Janell Bowen (Bass/Drums).
💥Blending the sounds of grunge, rock and Riot grrrl.
💥Squid ink creates music amplifying the voices of women and femmes combating the misogynior, white supremacists, cis-hetrosexist, capitalist dystopia we actually live in!
Zero Charisma is black rainbow snail trails to crystal visions 🌑It is a syrupy meditative space✨✨✨
Lawrence Lindell is a cartoonist, zinester, musician and educator from California.

Frontman Adrian D Thomas and drummer Cody Bruguier started "One Way Sky" 3/6/19. ✨Guitarist/bassist Loma Manuel later joined the team. They are a chill hype alternative rock band that incorporates styles of hip hop, jazz, metal, and chillwave genres. ✨They are from the Gila River Indian Community and the Tohono O'odham Nation in Arizona. ✨Barely out of high school, playing music for a living is a dream in which they hope to achieve. ✨To show that it is possible to manifest your dreams and make them a reality. ✨One Way Sky is built off of hopes, dreams, amibitions. ✨The Sky is the limit and there's only One Way.. your way.

Sour Spirit are two brothas who are brothers making waves of harsh noise with free jazz flourishes, playing within and in spite of traditional rock structures. Meets Unwound. And though there are flashes of sounds that recall something that feels familiar, that familiarity is not nostalgic, it's primordial. See them live, change your life. -Alex Smith